(Coffs Harbour : cartoon bunker and garden)
De retour le long de la côte, nous avons roulé jusqu'à Coffs Harbour.

Nous somes allés dans un endroit peu commun : un bunker de guerre transformé en galerie BD (la seule galerie BD d'Australie). La clim' à l'intérieur faisait du bien car il fait de plus en plus chaud chaque jour !
Nous avons payé $3 à un gentil monsieur qui nous a ensuite présenté le lieu qui était une base radio pendant la 2nd guerre mondiale. Ona regardé un vieu documentaire puis on a pu rentrer dans le bunker.
C'est petit mais très drôle de réaliser l'usage avant/après de ce bunker.
Il y avait une expo sur une BD Australienne : Ginger Meggs, une BD qui a 95 ans, et qui a été traduit en France par Pierrot (on a vu des BD françaises des années 70 !).
Et un mur entier d'étagères est dédié aux BD et aux livres pour apprendre à dessiner des BD.
/
Back along the coast, we drove until Coffs Harbour.

We've been to an unusual place : a war bunker transformed into a cartoon gallery (the only cartoon gallery in Australia). The inside air-cond felt great because it is getting hotter and hotter each day !
We paid $3 to a very kind sir who then introduced us the place which was a radio base during the WWII. We watched an old documentary and then we could go inside the bunker.
It is small but very funny to realise the before/after use of the bunker.
There were an Australian cartoon exhibition : Ginger Meggs, a 95 years-old cartoon, which in France was translated in Pierrot (we've seen some 70's French cartoons !).
An all wall was dedicated to cartoons and how-to-draw-cartons books' shelves.
Puis, nous avons visité le grand et beau jardin botanique qui est situé dans un bras de rivière et est donc entouré de mangroves. Personnellement, j'ai beaucoup aimé la serre et le jardin Japonais <3
/
Then, we visited the big and beautiful botanical garden which is locatde inside a river curve so it is surrounded by mangroves. Personnally I really appreciated the glasshouse and the Japanese garden <3
vert d'un côté, violet de l'autre <3 / green on one side, purple on the other one <3
Et c'est reparti sur la route! / Let's go back on the road!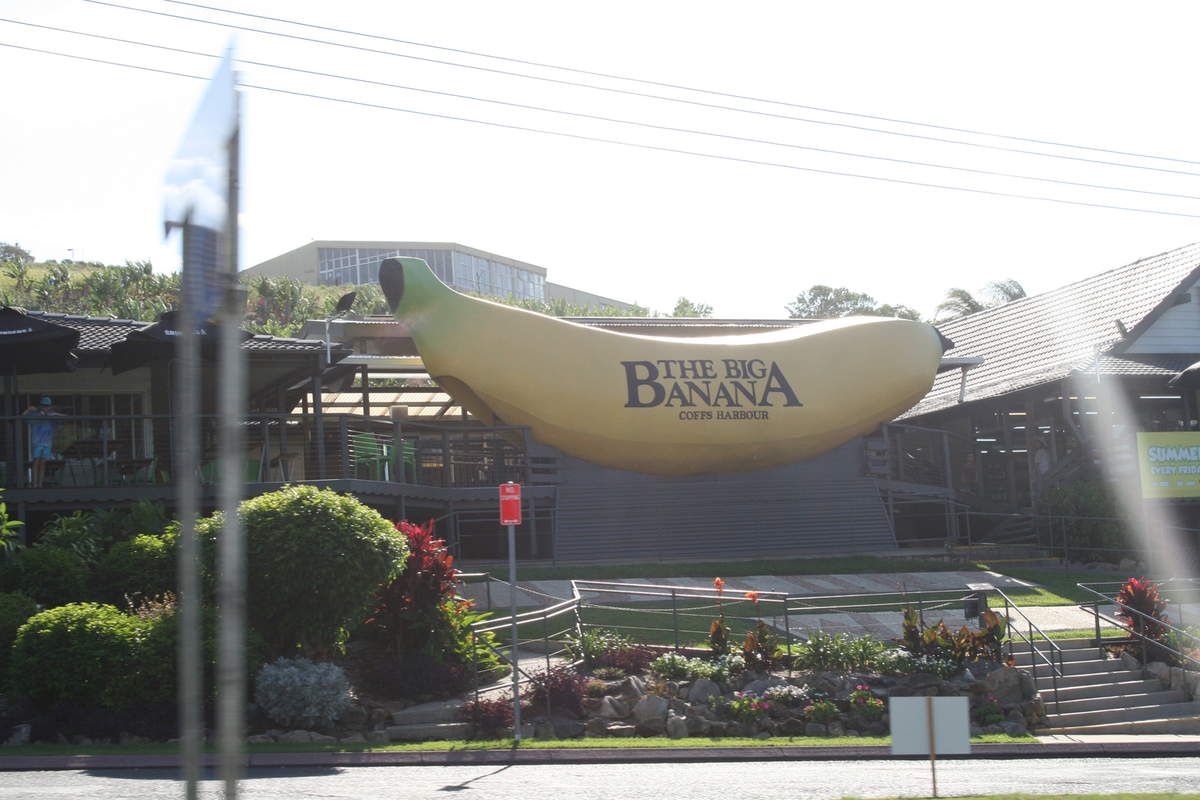 Big Banana, un grand parc d'attraction à polémiques dont beaucoup d'Australiens se moquent / Big Banana, a big theme park with lots of polemiques and jokes from Australian people
Super camping gratuit le long de la rivière (on a eu la visite d'un taureau curieux lors du dîner, youpi ^^ ) / Great free camp along the river ( curious bull visited us during dinner time, yeepee!)